Sat out on the edge of Sheffield and a stones throw from the Peak District National Park boundary, Wharncliffe woods has a lot to offer. Whether it be hiking, trail running, mountain biking or climbing, there is something for any keen outdoors folk amongst these trees and crags. We'll be taking a look at some of the options for trail running around Wharncliffe with a 5km, 10km and 15km set of route suggestions to get you started.
Route 1
Trail type: Primarily hard packed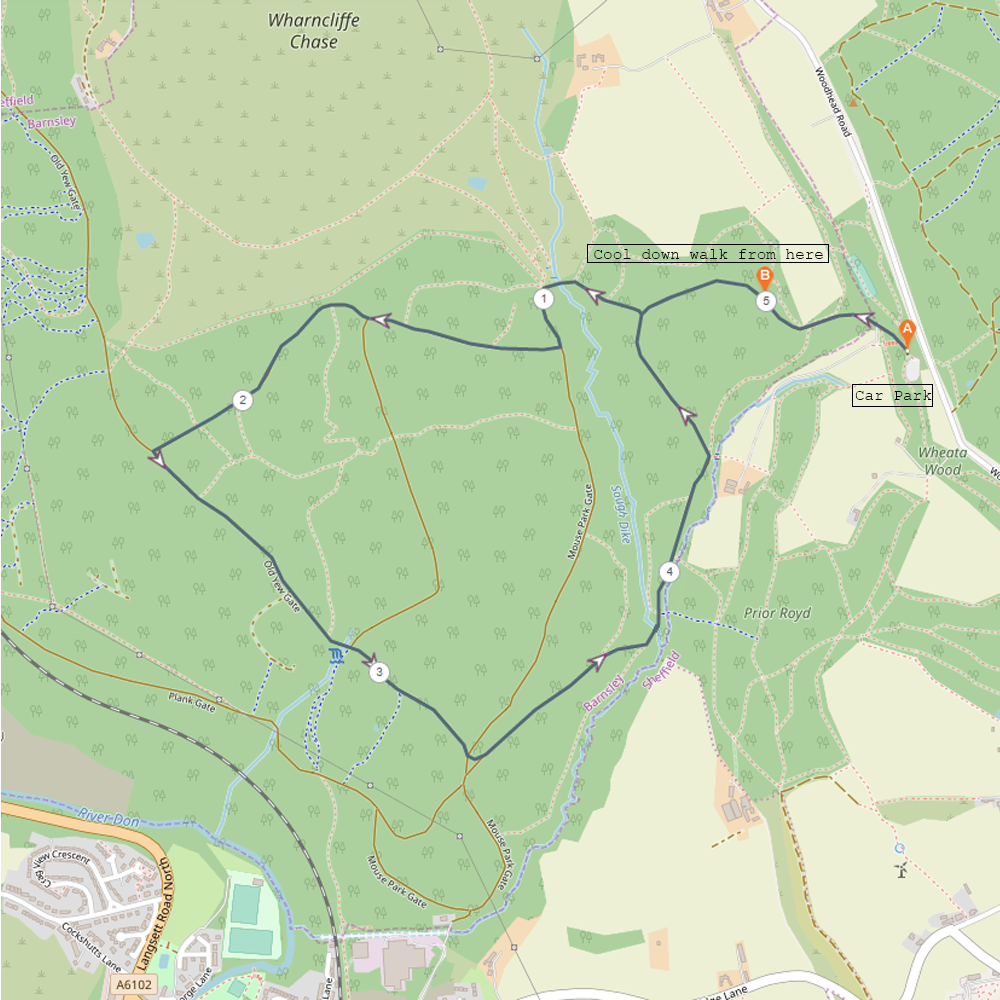 This route can be done either way round, but naturally the elevation gain will be different running clockwise. Starting at the Geno woods car park on Woodhead road the main path into the woods is very clear and wide, so it's very easy to follow. After about 1km once you've rounded a large bend, you can turn off the path onto another clearly marked hard packed trail to the 2.2km mark, which will bring you down to Old Yew Gate. At 3.3km, you'll come to a crossroads in the paths, continue straight here and very shortly you'll be on another clearly marked path that will take you back to the first stretch of path you started on. Once you reach the 5km mark you will have about 300m to walk or jog back to the car park as part of a cool down.
Easy to follow paths and not too much elevation, a good route for a relaxed weekend 5km amongst the trees.
Route 2
Trail type: Some hard packed, some rocky.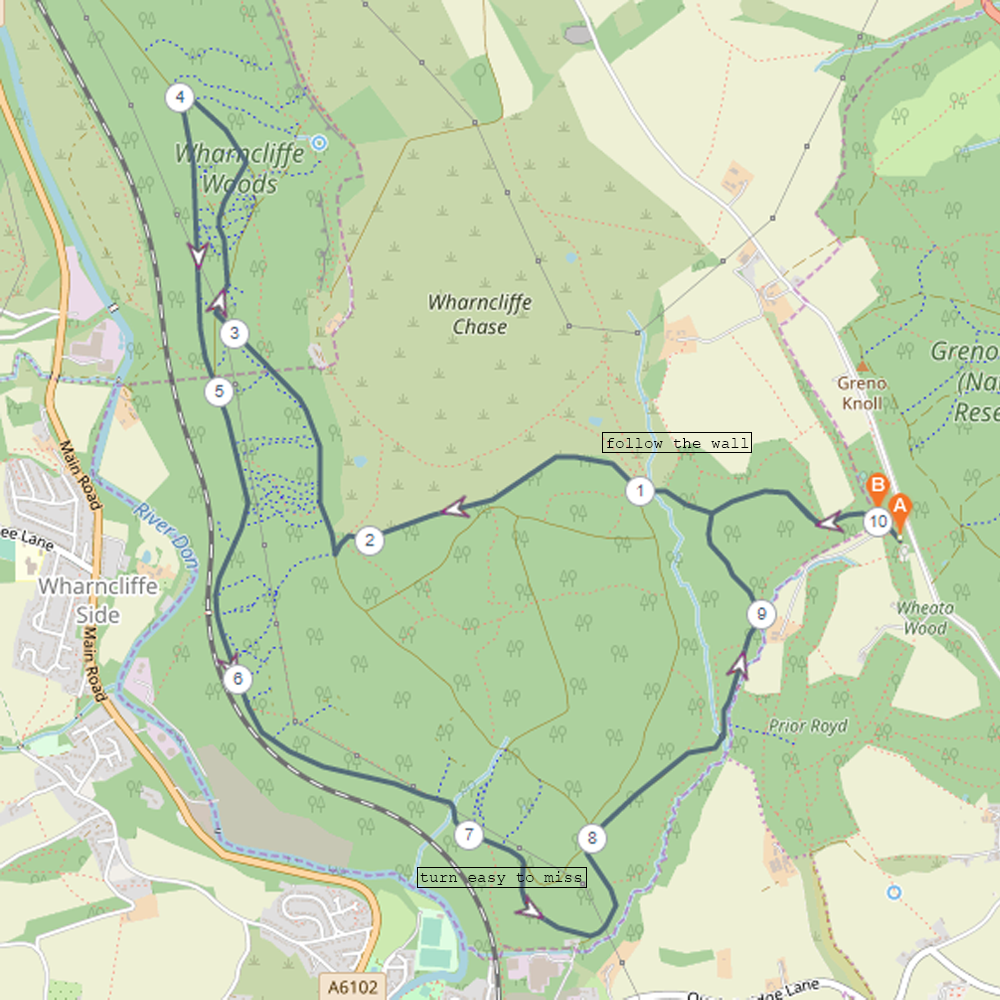 This route extends a little further into the woods. At the 1km point there is a path that leads away from the main path and follows a drystone wall bordering Wharncliffe Chase. This path is quite varied and definitely requires concentration and trail experience to handle effectively. Just after the 2km mark you join up with a wider path for about 2km that run below the crags before joining up with Plank Gate. It's easy navigating for the next 3.2km until you reach Mouse Park Gate where you can divert off on a little loop that joins back up with the main network of paths. From here you can just follow one of the main paths back to the car park. There are two options that lead back and it doesn't matter too much which one you end up taking.
With a reasonable amount of elevation gain and a mixture of trail types, this route requires some experience. Don't expect a 10km PB on this one!
Route 3
Trail type: Some hard packed, some woodland, some rocky crags.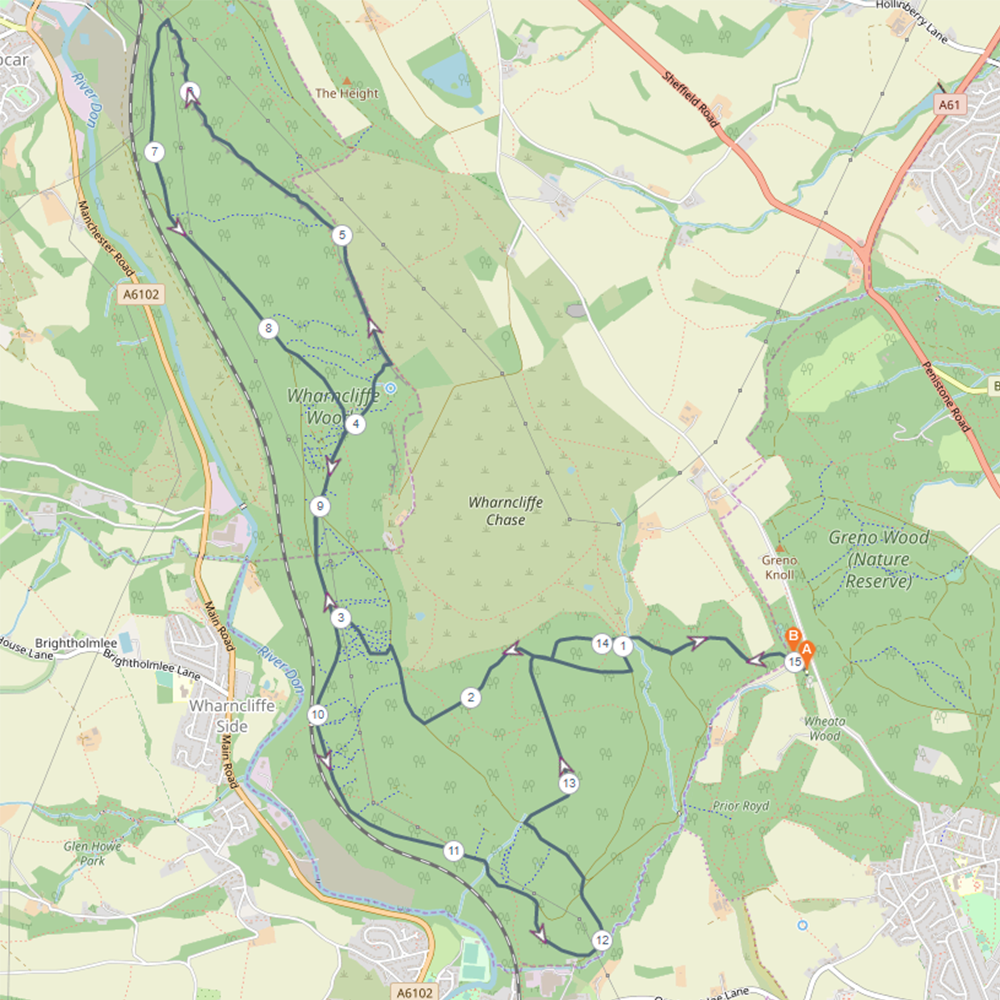 This route treads over some of the same ground as the previous two, but goes out much further and takes in Wharncliffe Crags. It's always worth getting to know an area a little better before heading off an longer runs where you'll need to navigate a fair bit so I'd personally reccommend trying the 5km and 10km route to familiarise yourself with the area south of Wharncliffe chase to reduce the amount of time spent stopping to navigate. As these woods are also great for walking the option to explore while on a hike is also available.
After about 2.6km of the route there is a path that will drop down fairly steeply and join up with Plank Gate. The route stays on Plank Gate here for around 200m before heading back up and essentially continuing to follow paths upwards onto the crags. Once on top of the crags you then have roughly 2km of rocky trail to contend with and some great views across the woods and the valley. when you reach the end of the crags the path to get back down to Plank Gate is definitely more of a scramble down. Ignore the path that leads off through a gate and back into the trees. Follow Plank Gate for nearly 2km and just after the 8km mark you can take the path that leads back up into the woods and then comes back down to join Plank Gate again to add some extra elevation into the route. From here, continue on Plank Gate until you reach roughly 11.6km and then take the little Mouse Park Gate diversion featured in the 10km route. Cross the confluence of paths onto Old Yew gate and follow that for around 300m then take a path leading off to the right and then follow that until it joins up with one of the other main paths. From this point there are a couple of route variations to get back to the car park but both are similar distance. The paths should be familiar here and getting back to the car park is about 1.5km of easy navigating.
I hope these route suggestions can get you started exploring Wharncliffe woods and all it has to offer for a trail runner. Once you've got some familiarity with the area and you feel up for more of a challenge, some of the mountain biking tracks make for gnarly ascents and are great for intense ascent training if you've got a tough race coming up!
Thank you for reading! Be sure to check out my gear reviews and hiking routes!
Find me in these social places