Start Point: Cutthroat Bridge
End Point: Cutthroat Brodge
A mostly out and back route heading up onto and along Derwent Edge to Back Tor. Easy to navigate paths are present the whole way. A slight route variation can be made int he last 3km of the route and the overall route can easily be shortened depending on time and physical ability.
Distance: 12km
Difficulty: Easy
Rating: 4.5/5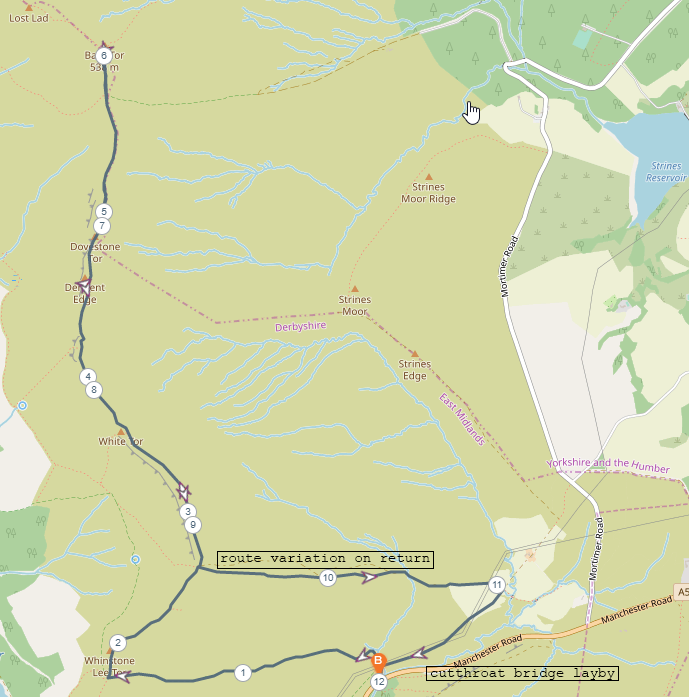 Derwent Edge is a popular destination for both tourists and locals. It boasts incredible views of the Derwent valley and beyond, as well as being home to some incredible rock formations. Getting up onto Derwent Edge is relatively easy although parking can be a bit of a challenge on busier days. Cutthroat Bridge layby is a good sized parking spot and on quieter days you can park at Cutthroat Bridge itself.
Starting at the layby car park, we had a short road walk to reach the path that leads off up the hill. Navigation along the entire route is very easy and the paths are well marked. Just under 2km through the still very purple heather brought us into view of Ladybower Reservoir and our first crossroads. Here the path we needed led up towards Hurkling Stones and is clearly signposted as the path that leads to Derwent Edge.
As we progressed up towards Derwent Edge the reasons as to why this particular part of the Peak District is so popular became very, very clear. A relatively accessible route with incredible views will undoubtedly bring the masses and the views are indeed, incredible. Walking northward you can see all the way up Derwent valley, out to Grinah stones, you can see across the Kinder plateau and along the Great ridge. There's so much to take in and the path along Derwent edge gives you the time to process this incredible vista.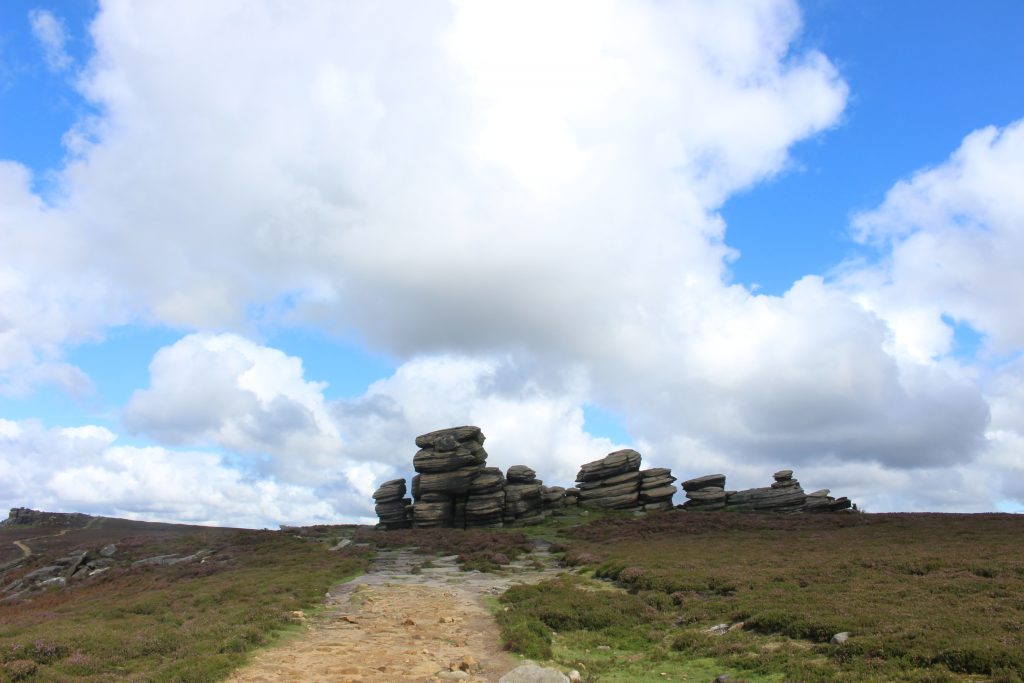 Coach and Horses was the first significant rock formation we encountered after Hurkling stones. We both decided that we didn't think it looked anything like a coach and horses, but that certainly doesn't dimish its striking presence on the edge. After a clamber around on the rocks we continued to progress along the edge, taking in the sights and marvelling at the various rock formations present. There are numerous photo opportunites along here and plenty of additional exploration available for those who like to scramble about amongst the rocks. On the right of the path on the approach to Back Tor there is a clear view of the rock formation that is adorably named Cakes of Bread, comprising of two prominent squat lumps of rock surrounded by smaller stones.
Back Tor is a stunning feature. The white trig point on top of it can be seen for miles around. Back Tor itself is also clearly identifiable from a long way away, particularly when the visibility is good. A large and imposing feature, it loomed in front of us as we drew closer. Its various lumps and bumps leaving us marvelling at the mechanisms that shaped them.
Greg chose to relax for a while out of the wind while I unleashed my inner five year old and added possibly another 2km on my hike by scrambling along the entire rock formation and leaping around. There is plenty to explore here with stunning views all around you while you do so.
We began our wander back along the edge, keeping a look out for a peculiar rock formation that was visible from Back Tor but not while approaching from the South. After some scrambling about trying to figure out where it was we did eventually find it a bit south of Dovestone Tor, choosing to sit and have our lunch out of the wind and away from the main path.
Once our bagels had been consumed we carried on past White Tor, after which we followed a path that turned off towards Sheffield, following this until it brought us close to some farm buildings and a crossroads in the paths. Here we turned back towards Manchester road and Cutthroat Bridge.
An easy going walk with breathtaking views along the vast majority of it. Clearly marked paths and plenty of landmarks to make for an enjoyable day out for anyone who loves the outdoors and a good hike.
Thank you for reading! Be sure to check out my other hike write ups and gear reviews!
Find me in these social places