Start Point: Hope Woodland Car Park
End Point: Hope Woodland Car Park
A loop route navigating to the scramble directly up to Fairbrook Naze and a walk along Seal Edge before coming back down into the valley to Snake road.
Distance: 10km
Difficulty: Intermediate
Rating: 4.5/5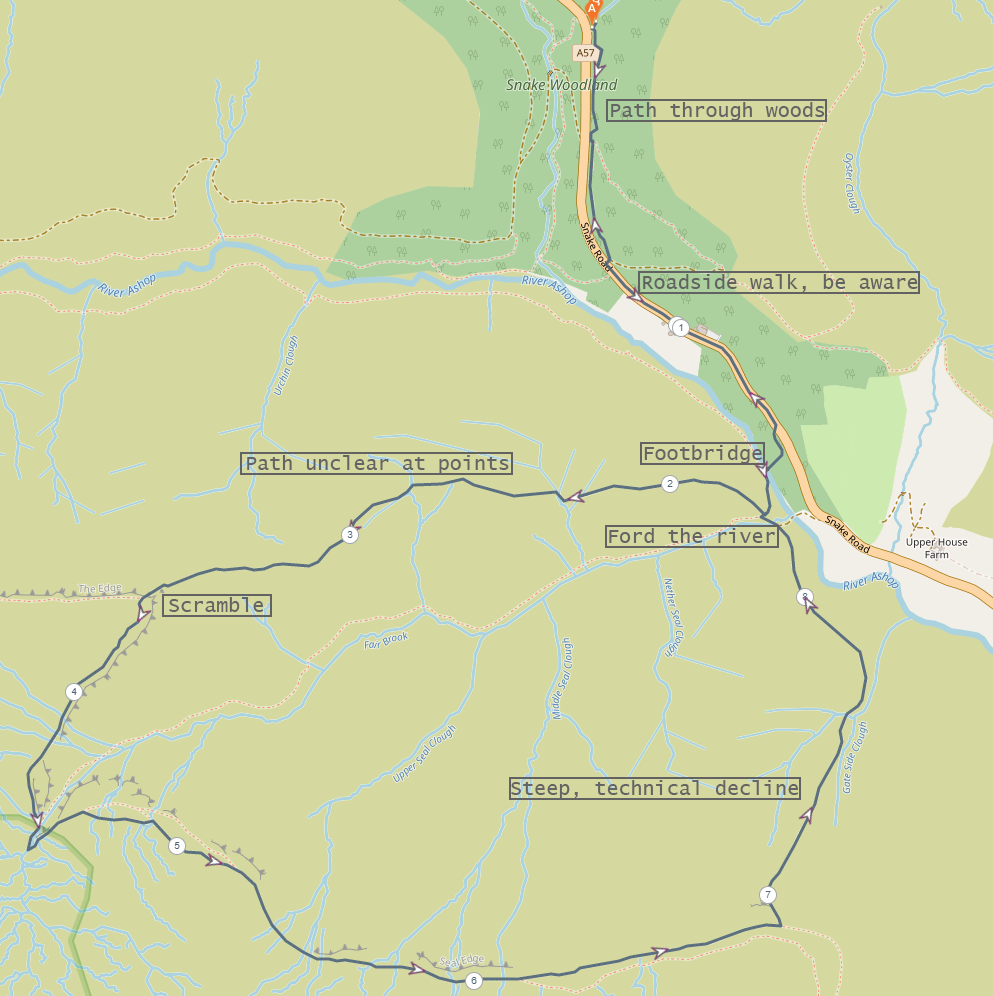 We arrived at Hope Woodland car park at around 09:30 on a Sunday morning. It was nowhere near as quiet as I'd hoped it would be. It seemed that lots of other people had also chosen to not have a Sunday lie in. I quickly resolved that I had been foolish to expect it to be quiet and began to head up the path through the woods that would take us parrallel to Snake road for a short while. Luckily it seemed the occupants of the sea of cars were all walking a different direction to us and we had the woods to ourselves.
After approximately 600m of woodland path we had to come down onto Snake road and walk along the road verge for around 800m. This can be a busy road so caution is advised here. There are paths and wide enough verges for most of this stretch but there are a couple of points where it's best to cross the road in order to walk along a safer section of verge. To reduce the roadwalk you can park in laybys closer to where the path strikes off towards the river Ashop but these can fill up fast and will obviously make the overall walk shorter.
When we came off the road again we followed a trail through a section of felled woodland. The foxgloves were out in full force and the deep pink of the flowers looked stunning against the backdrop of the green and verdant hills. This trail took us down to the river and to the bridge over it. A fallen tree had come down and presented a mild obstacle in getting onto the bridge, but it was easy enough to duck under it.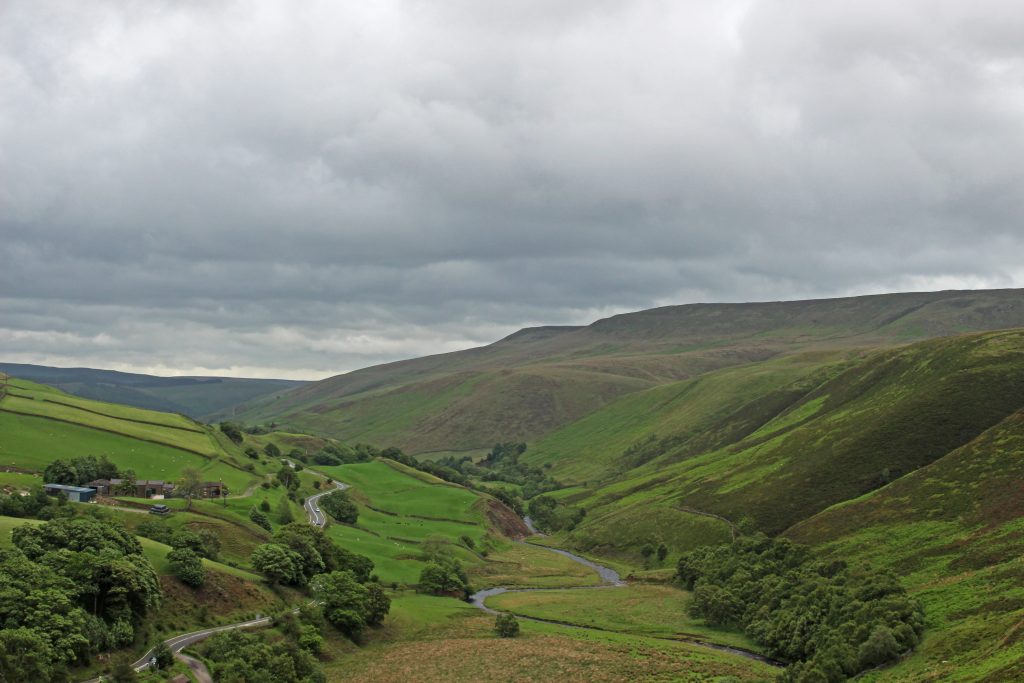 Once across the bridge we needed to head right, up towards Fairbrook Naze. The path we needed was concealled in the ferns and took a moment for us to locate. The route we ended up taking up the hill was quite what we'd planned. The path was unclear at points and we keep losing it, but we knew exactly where we were heading so the risk of actually getting lost was non-existent. We squelched up the incline, Fairbrook Naze growing gradually closer and rising up above us as we progressed. The view of the valley leading east along Snake road grew more and more stunning as we ascended.
After a steep ol' climb we took a short rest before the final proper scramble up onto Fairbrook Naze. There was a little spot that sat sheltered from the wind with a beautiful of the valley and Seal Edge. It even had a nook in the rock face perfect for sitting in, almost as thought it was intended as a spot to take a break and contemplate the view below.
The scramble up was good fun. Not overly technically difficult but a long enough scramble that anyone undertaking it needs a decent level of cardio, particularly after the steep climb up to it. Emerging up onto Fairbrook Naze itself we were greeted with the fascinating rock formations that define the Peak District and of course, lots and lots of wind. We took in the views from Fairbrook Naze but didn't linger long. It was incredibly windy and pressing on with our route seemed the most sensible option.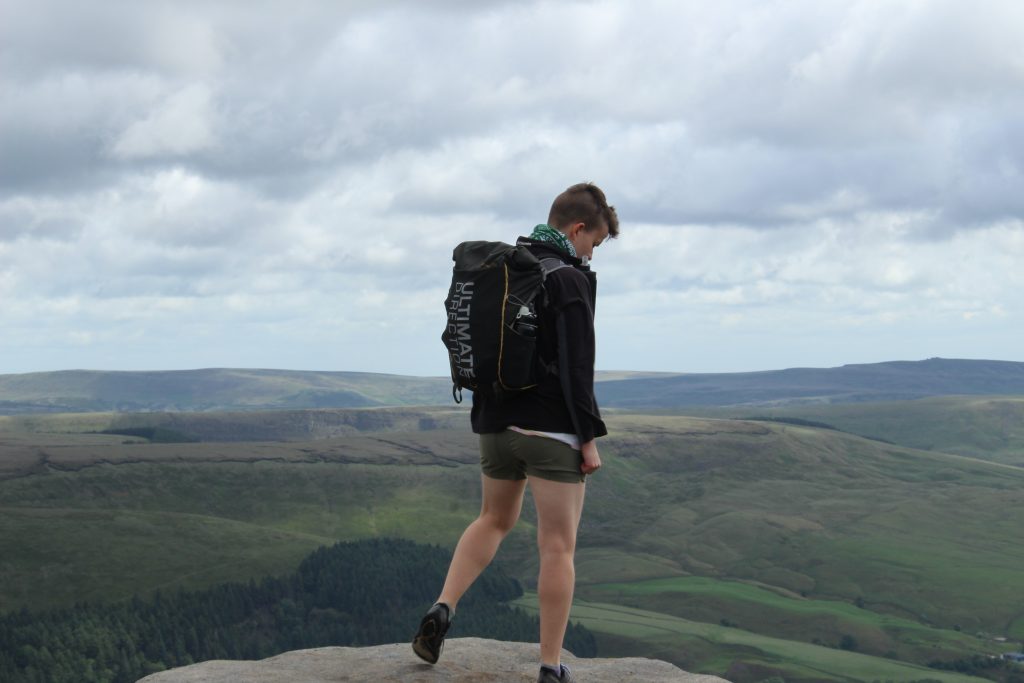 Along the edge that led towards Fairfrook Fall an actual path wasn't really present. The Hiker must pick their way around the rocks as they see fit. The edge is easy to follow, so once again there was no risk here of taking a wrong turn. We made our way across Fairbrook which brought us onto Seal Edge itself and we began our trek across this northern edge of the Kinder Plateau.
As is often the case when up on the moors, the weather did sweep in with a lovely dose of rain on a couple of occasions and we hastily donned our rain layers whilsted hiding behind a rock, but overall our pace wasn't hindered by this exciting turn of events. The views back towards Fairbrook Naze were excellent and the rock formations along Seal Edge are really interesting to explore.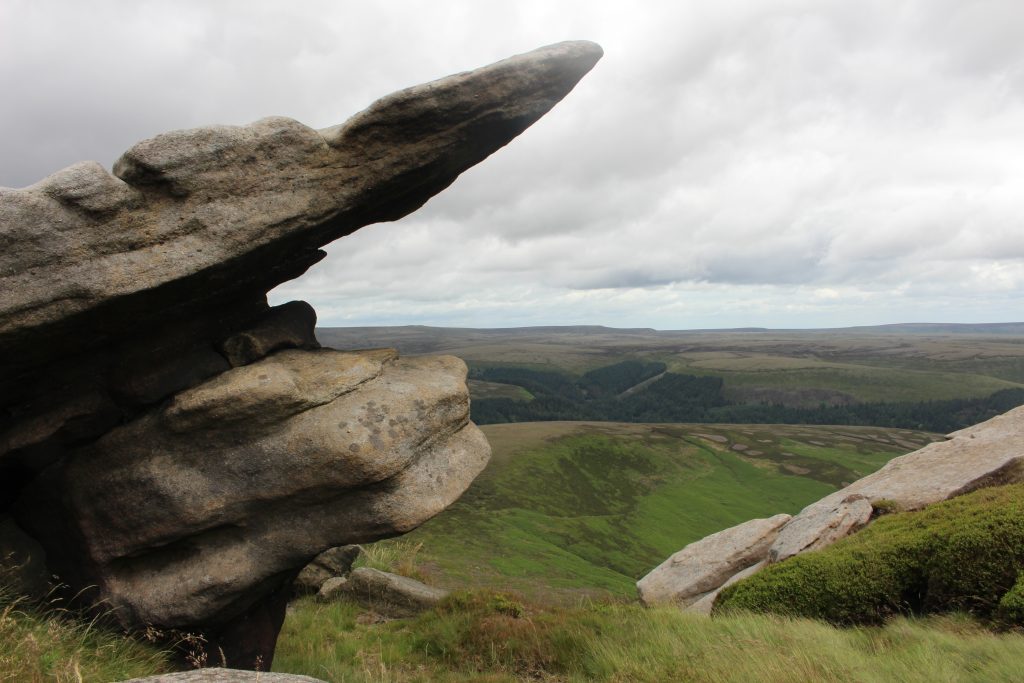 The path that drops down off Seal Edge and back down towards Snake road is fairly easy to spot. Near the top of it there are some trickier bits of descent that benefit from sure footing. As we descend the scenery morphed from dramatic rock formations jutting out from the peat, to a lush clough brimming with green and filled with the sounds of running water. Many of the paths through the cloughs in the Peak District often make me feel like an adventurer from a fantasy novel and this was no exception.
Once we'd neared the bottom of Gore Side clough we followed the path as it turned back towards fairbrook and ran parrallel to the river Ashop. The final real obstacle of the walk was the ford across Fairbrook, although the river wasn't out in full force that day and I walked away from the crossing with merely one damp foot. When we joined back up with the road we simply had to walk back along to the point where we could join the woodland path and make our way back to the car for our picnic lunch.
A very enjoyable hike with some excellent views and some ascent that was a reasonable challenge. Much longer routes around this area are available for those who wish to walk west along the river Ashop and find their way up onto Snake path, approaching Fairbrook Naze from that angle instead. A must visit area of the Kinder Plateau.
Thank you for reading! Be sure to check back for weekly hike reviews and other adventures!
Find me in these social media places