Official secured capacity: 25L
Maximum unsecured capacity: 29L
Roll top waterproof rucksack with a running vest design. One main inner compartment, large mesh outer pocket, 4x bottle holders, 3x small zip pockets.
Reccommended For: Run commuters, day hikers, lightweight backpackers/fastpackers.
RRP: £133
Lowest Price found: £101
Product rating: 4.5/5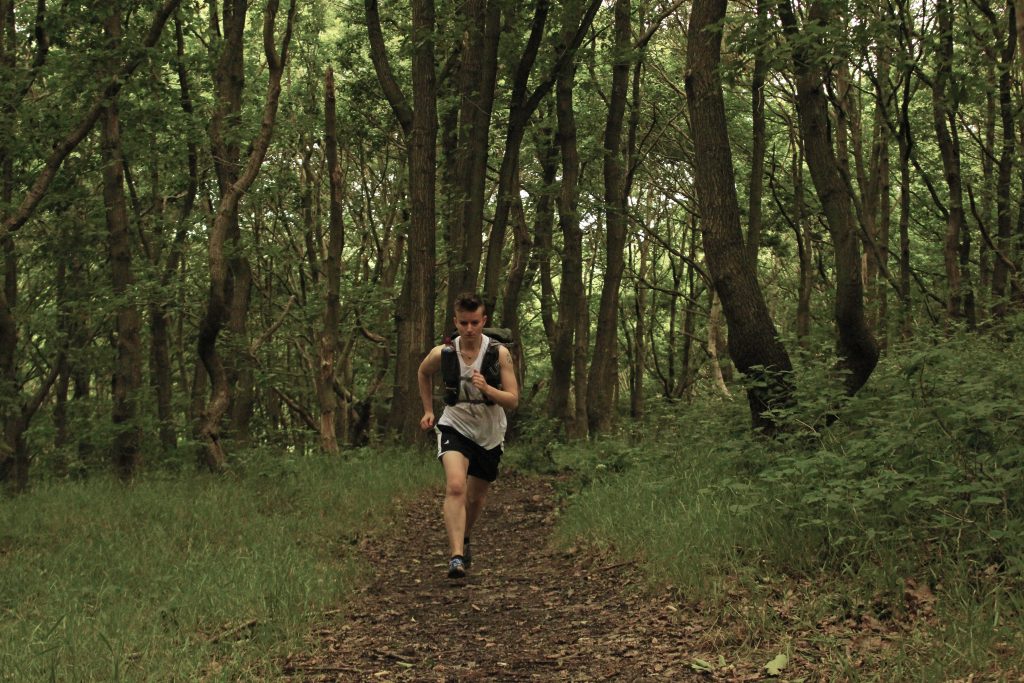 I picked up the Ultimate Direction Fastpack 25 because I needed a lightweight rucksack that I could get my camping gear into and that would be comfortable to run with while loaded up. I also wanted it to be able to easily double as a hiking day pack. The Fastpack 25 jumped out as a good option to try. It's official volume of 25L made me a little uncertain, but knowing it was a rolltop meant that it's capacity could be extended a bit. Before going forward I would like to clarify that I pack light, so my comments on the camping gear can be viewed with a pinch of salt.
My initial experiences with this rucksack have been very favourable. I have done three training runs while the rucksack was loaded with camping gear and water, spent one day out with it where I ran a total of 20km with the rucksack full of food and camera gear and I have taken it on a handful of day hikes where it was packed with additional clothing, food and camera gear. It has been rained on a few times and sweated on quite a bit already. I cannot currently speak for its long term durability so I will focus on its day to day performance and functionality.
Comfort
For day to day use, the Fastpack 25 is really comfortable. While the backpack is not fully loaded the average user will be able to use it for a work commute or a day out with no issues. The two chest straps disperse the weight placed on the shoulder straps and the padding in the back of the rucksack will make it sit nicely against your back.
Once the rucksack is fully loaded then we start to identify where additional adjustment is required for it to remain comfortable. Because the Fastpack 25 is designed for running, it does not have a waist belt so as not to impede the movement of a runner or particularly fast hiker. Because of this, the rucksack will exert your core more than a traditional hiking rucksack. Initially, this means that some discomfort will be experienced if you are choosing to fill this rucksack to its capacity and take it on long day hikes or overnight trips. This discomfort is likely to fade in time as the body adjusts and your core strengthens, but that additional strain on your core will be noticeable until that physical adjustment occurs. My own adjustment seems to have happened fairly quickly. I haven't found it to be a hinderance personally and it has merged into part of my general conditioning and training.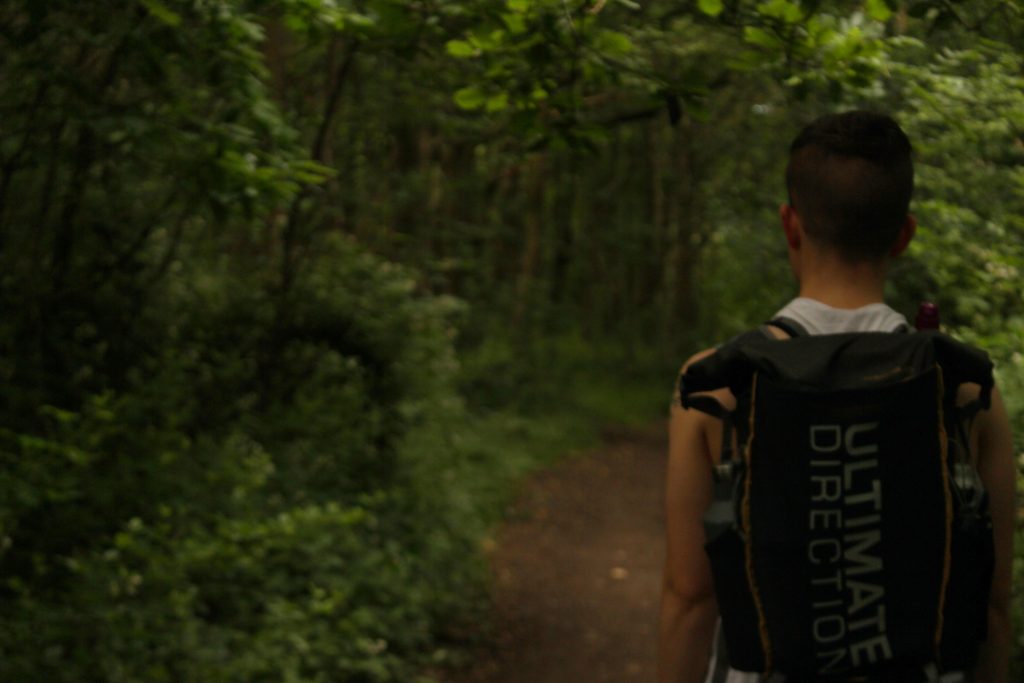 Storage
The Fastpack 25 features one main inner compartment as its primary storage area. Within the main compartment there is a thin mesh pocket, ideal for storing any flat items that you may be carrying. The opening to the main compartment is a rolltop opening, providing a secure fastening and allowing the rucksack some extra storage capacity if really needed. The rucksack capacity does expand to 29L when fully packed out, but obviously fully packing out the rolltop will mean that anything in that top section of the pack is less secure and will move from side to side more than it would in a bag with a larger base capacity.
Outside of the main compartment the rucksack features a mesh bottle holder on either side that can hold bottles up to 1L comfortably. Each strap has an additional bottle holder on it that can comfortably hold bottles 700mls and below. These holders can easily be used to keep a phone or smaller items if you don't need two bottles up front. There is also a large mesh pocket on the back of the rucksack that is large enough to store a rainjacket if it needs to be easily accessible, or used to store easy to reach food items, suncream, hats, headtorches etc. Inside this big mesh pocket there is also a zip pocket that is a good size for a phone and wallet or just other small items that need to be easy to reach. The smallest pockets are on the shoulder straps below the bottle holders. These two zip pockets are ideal for any snacks that you want to be immediately accessible while on the move or for storing small items that you need handy.
I've been impressed by the utility of the storage options in the backpack and each time I go out with it I know I'll be able to adapt the rucksack to whatever my needs are for that day. For day hikes there is minimal risk of not having enough space in the bag. Some more well thought out packing is required for fitting overnight camping gear into the bag but there is definitely ample room for a lighter weight set up. You're not going to get a three person tent and family sized trangia in there, but for one person, or a two person set up that's shared over two bags, this bag can fit enough kit in it.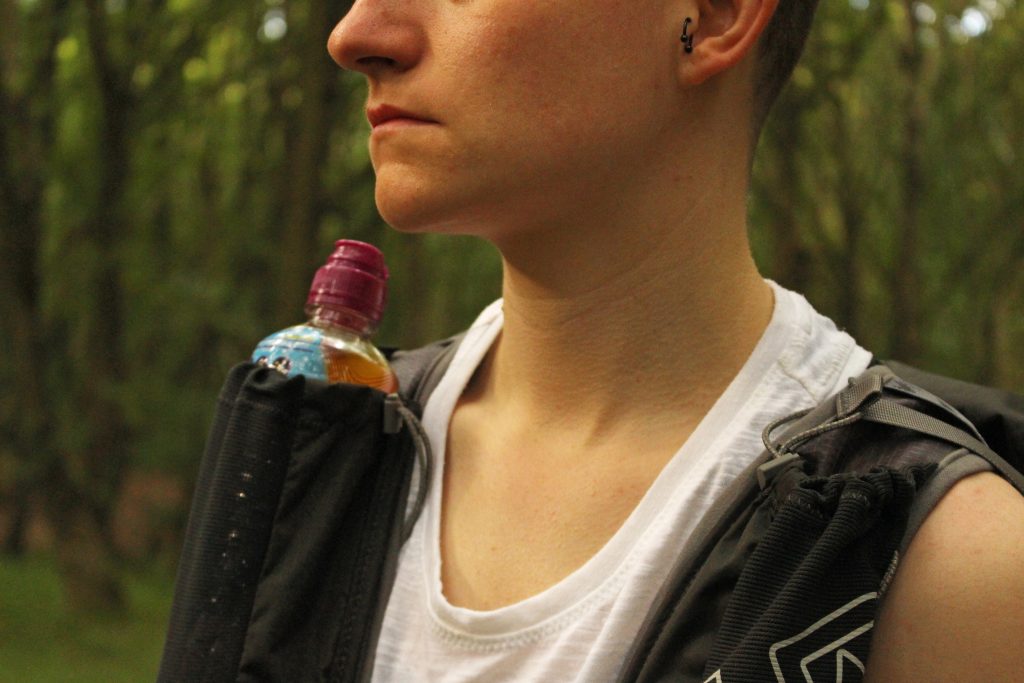 Appearance
As with the majority or Ultimate Directions products, the Fastpack 25 boasts a clean and contemporary design. The Brand name on the back may be a bit obnoxiously large for some, but otherwise the overall visual design is pleasing.
Other Features
This rucksack is light, coming in at 555g/19.6oz and is waterproof. So far I've had it out in some rain while running around Sheffield and some heavier weather in the dark peak area. It has kept the contents of the bag dry on each occasion. There are additional loops and ties for securing trekking poles when they are not being used and some scope to get creative if you do need to take something like a roll mat with you. I was easily able to attach a roll mat to the outside of the bag with a couple of extra lengths of cord.
Final Thoughts
The initial testing has been very positive and the Fastpack 25 is shaping up to be a great piece of kit. I am looking forward to continuing to put it through its paces and to see how well it fares when I actually take it out on overnight trips up on the moors.
Thank you for reading! Be sure to check back in regularly for more gear reviews, hiking routes and other adventures!
Find me in these social media places