Start point: Greno Wood car park
End point: Greno Wood car park
The map shows the route I would reccommend after making a number of mistakes and wrong turns on our attempt to find the caves.
Distance: 4.7km to the caves from Greno Woods car park
Difficulty: Novice
Rating 4/5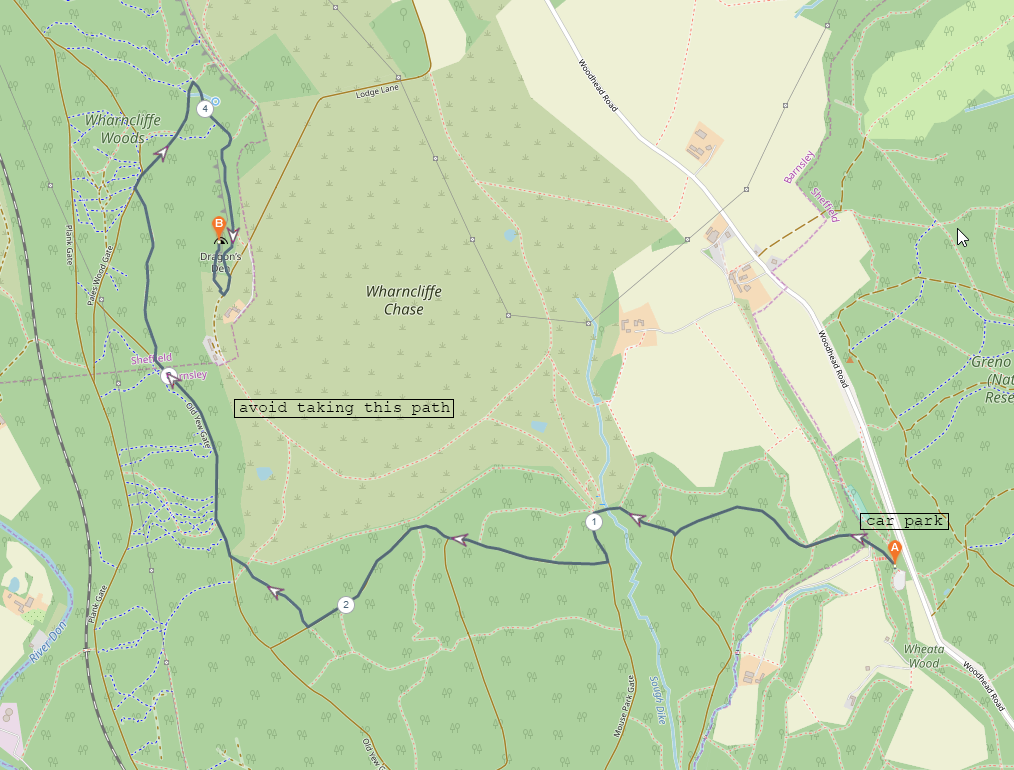 On a very damp and rainy day, we decided to head out on a more local walk and try to search for a cave we knew to be up in Wharncliffe woods. It was very wet and mistakes were made, but we did make it to the cave and were able to have a good look around while trying to hide from the rain.
Wharncliffe woods on the edge of Sheffield offers a variety of walks, from very well maintained bridleways, to full on muddy scrambles and rocky hikes along the crag. When we set off from the car park we initially aimed for what we thought was the quickest route to the cave. We followed a wet and less well travelled path along the boundary between the woods and the common land and aimed for some farm buildings. Multiple maps indicated that there was a path running through these buildings but when we got there the sign indicated that walkers were not permitted on the path through the buildings. We turned back and proceeded to spend the next half hour or so finding our way to the cave via a different route.
We had to head back down into the woods and then followed a path a way below the crag for a few minutes. We came across a path that led up back towards the crag, although it wasn't marked on the map. After following this path we discovered it just came out in the back garden of one of the houses we were trying to skirt around so continuing forward along this route was not an option. At this point both Greg and I were both very wet and I was definitely not up for back tracking again. We knew the cave was literally 100m to our left so we just scrambled over there through the undergrowth. We did climb back up above the rocks and walked about 50m of it along easier going ground and then found the actual path that led down to the caves.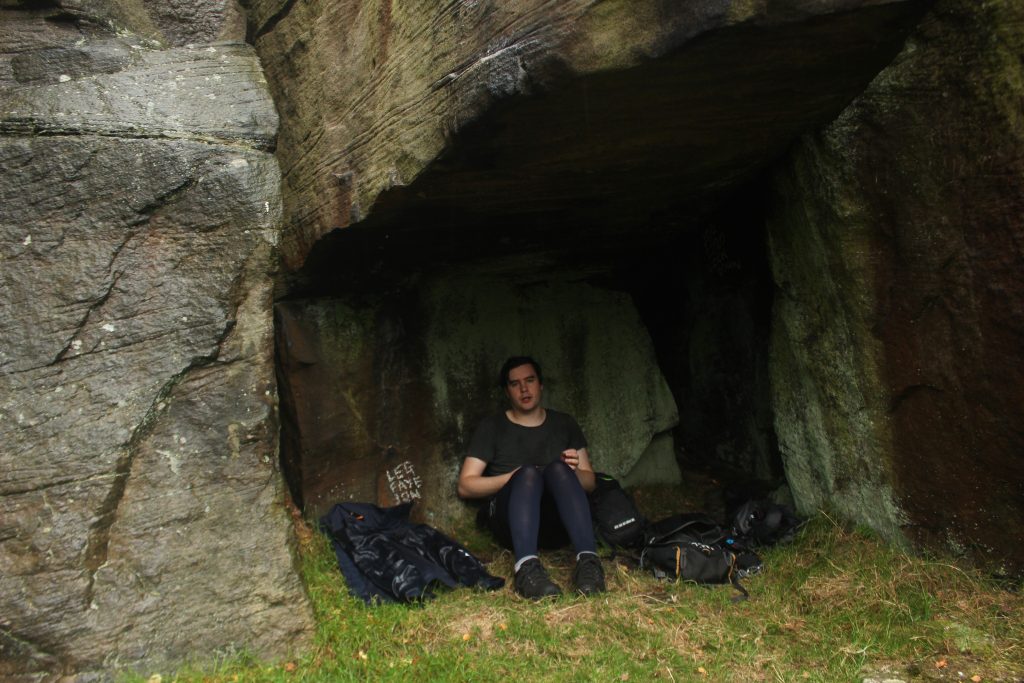 The first cave is easy enough to find once you're on the path that leads down to below the crag. I'm not 100% certain which one is officially named Dragons Den. There are three locations that have the name attached to them on various maps and sources. There is one cave we didn't end up finding that is stated as being Dragons Den on Wikipedia. The shallower and more open cave we initially came across is labelled as Dragons Den in the Peak Bouldering guidebook and there are several bouldering problems around this area. The second cave we came across is only about 10m to the left of the 'bouldering cave' and on some older maps this smaller cave appears to be labelled as Dragons Cellar but could also potentially be a cave that was at one point known as Old Wives cellar.
The legend that seems to have given it's name to the caves here is that of the Dragon of Wantley, which tells of a Dragon who lived in the caves along the crag and terrorised the local population, supposedly stealing livestock and eating children. The dragon was defeated by a knight called More of More Hall and thus the locals were freed of the terror that had long hung over them.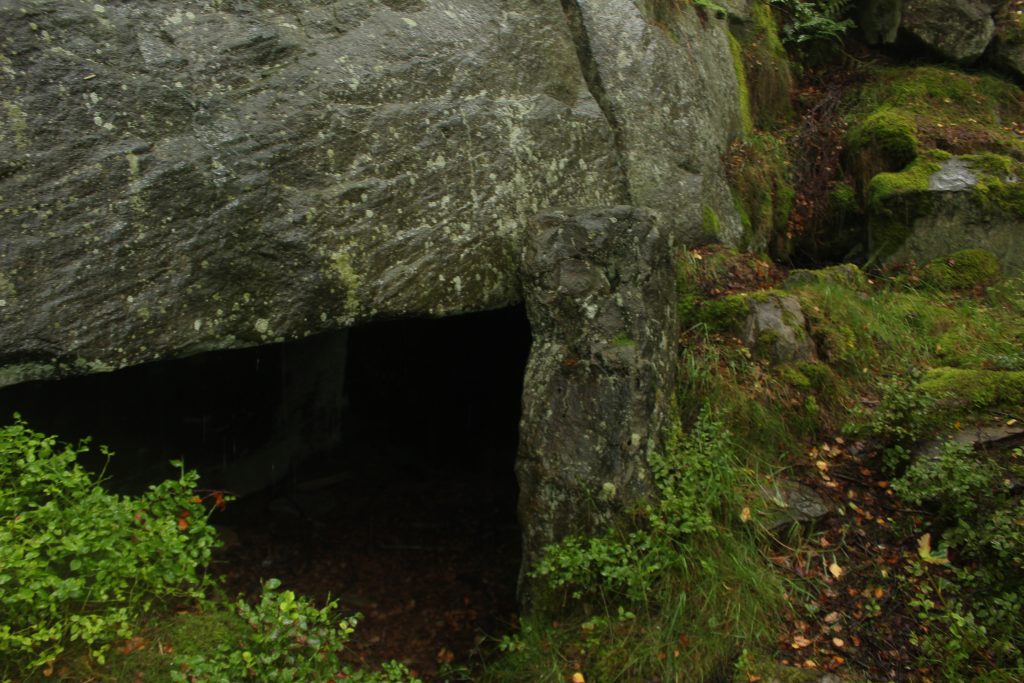 The more open bouldering cave has an interesting crack running deeper into the crag. You can easily get in there and have a good look around, which I most certainly did while we were waiting for our coats to vaguely dry out. The cave itself was a pleasant shelter looking out over the trees and would probably be a great picnic spot on a day with kinder weather. It was a welcome respite from the rain in this instance.
After drying off a little and having a good look around, we meandered back to the car through the woods, taking a longer hike back down along the wide main paths and enjoying the sound of the rain. It was incredibly wet, but when you know the car and the warm aren't too far away, it's not so much of a problem.
Dragons Den is an interesting little location that can be a little adventure by itself or part of a longer day out exploring Wharncliffe woods and Wharncliffe crags. An easy to reach woodland with a decent sized car park and plenty to see. A location I very much enjoy visiting.
Thank you for reading! Be sure to check back regularly for more adventures!
Find me in these social places