Start point: The layby at the top of Howden Reservoir
End point: Slippery Stones
Walking up the path towards Slippery Stones and then taking the path up Cut Gate towards Margery Hill. Lunch at Margery Stones then doubling back to Cut Gate End so we could take the path down to Howden Clough then follow the cycle path back up to Slippery Stones for a swim!
Distance: 12km
Difficulty: Easy
Rating: 4.5/5
This hike was a special hike, because it was my birthday! We'd planned a relaxed day wandering around the top end of Howden Reservoir and then finishing at Slippery Stones so I could get a bit of a swim in. Where there's opportunity for a wild swim I always seize it, particularly if it's in a river. The cold water amongst the hills and the rocks is just extremely beautiful to me.
We drove up the access road that runs up the side of Ladybower, Derwent and Howden reservoirs. This road is open Monday to Friday and closed at weekends and bank holidays, which makes getting up to this section of the Peak District much easier during the week and unfortunately, much more difficult on weekends. It was quite busy along this road even on a weekday so it's easy to see why it's closed at weekends. If there was an accident it would be very difficult to get an emergency vehicle up the road.
Setting off from the very end layby, we followed the path through the woods towards Slippery Stones. Crossing the bridge just downstream from Slippery Stones we took the path up Cut Gate tpwards Howden Edge. This path was easy to follow all the way up which meant we could focus on the views with no real need for Navigation. While we made our way up Cut Gate we had information from four people on the path that the bearded vulture was flying around further up. When we were a little closer to Howden Edge we were rewarded with a clear view of the vulture as is took off from its perch on Bull Clough Head and proceeded to circle around the valley. A couple of Curlews began to chase it, presumably not keen on having a giant bird anywhere near their nests and the vulture ended up flying over us as we approached Cut Gate End.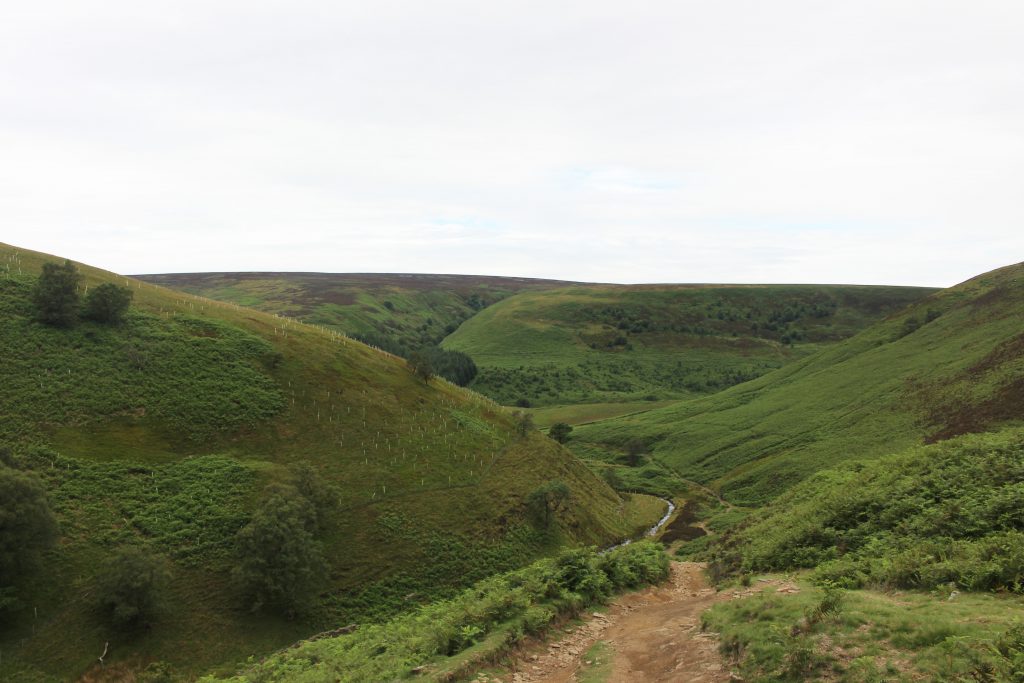 While we watched the vulture we were also able to take in the wonderful views across to Bull Stones and back down towards Howden reservoir. You can see across towards Bleaklow and Grinah stones as you climb up this section, with good views when the visibility is clear.
We tore ourselves away from the majestic sight of the vulture soaring around the valley and continued up the hill. A little way past Cut Gate End was the path to Margery Hill, and a stones throw from the trig point on Margery Hill are Margery Stones, where we sat behind the rocks to shelter from the bit of wind that there was while we ate our lunch.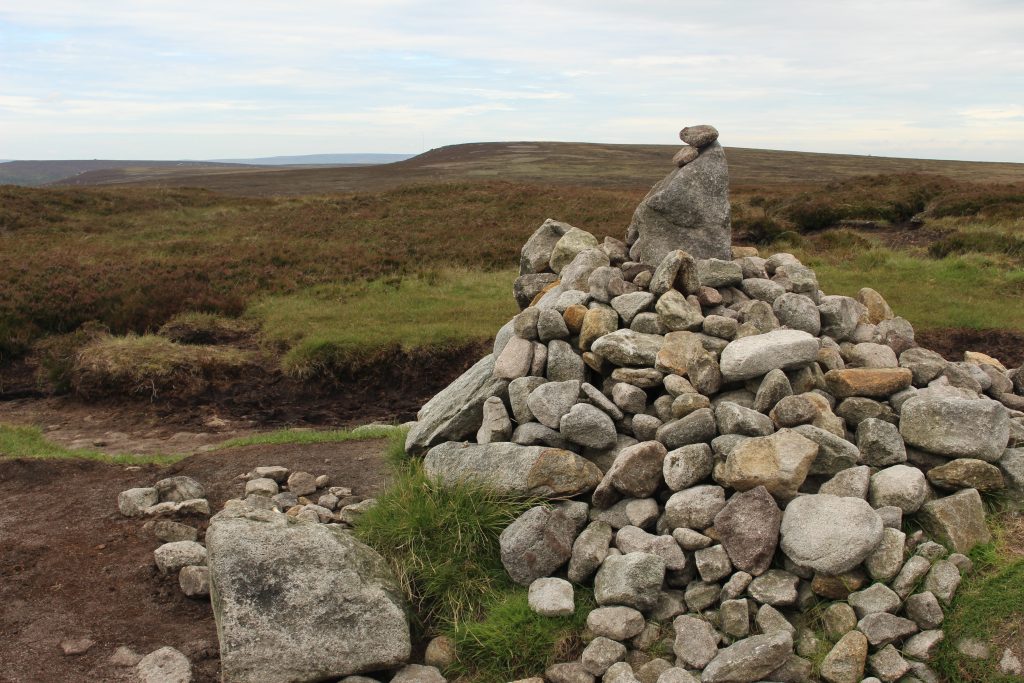 After bagels had been consumed we needed to back track towards Cut Gate and then find the path that would take us down towards Howden Clough. This path was a little tricky to find and seemed to occasionally dissapper and reappear in odd places. At one point we lost the path and had to just head towards a style in a fence that we could see, which thankfully linked us back up witht he path. After this point it was fairly easy to follow the trail down to Howden Clough.
Howden Clough is very pretty. There is a an old and presumably long disused reservoir part way down that has beautiful clear water and is teeming with lush plant life. On this particular day, the weather was a bit changeable but bright bursts of sunlight kept breaking through and really brought out the lush green of the foliage in Howden Clough.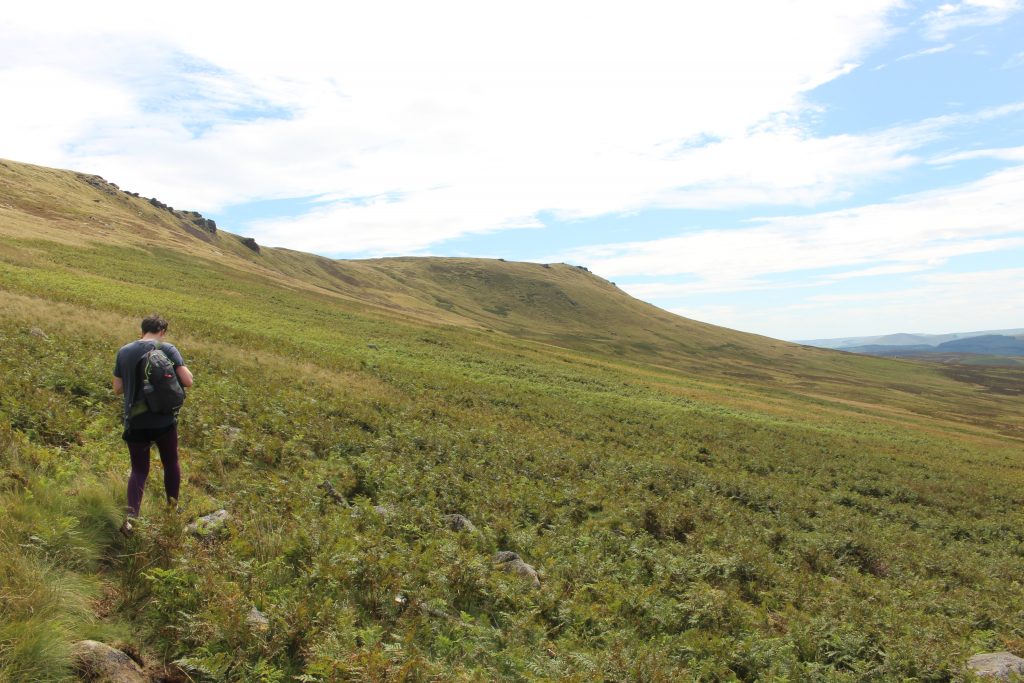 At the bottom of the Clough we rejoined the cycle path that leads up the eastern side of the Reservoirs and followed it along Howden reservoir back up to Slippery Stones. As we appraoched the plunge pool we could see that it was really busy, which was a little discouraging. Thankfully, as we got there and took our bags off it was apparent that a couple of groups were leaving, so I went ahead and got ready for a dip.
The water was extremely cold, so I made my way in carefully, being sure to adjust to the temperature a little before I dunked my torso into the pool. I currently wild swim without a wetsuit so it definitely safer for me to move slowly into cold water. There were two other people in the pool while I was in there so there was plenty of space to swim around a bit before I felt my arms beginning to go a bit numb and took that as my cue to get out and get dry. This marked the end of our adventure proper and from Slippery stones we meandered back to the car, which was just over 1km back down the path through the woods that we had come up at the start.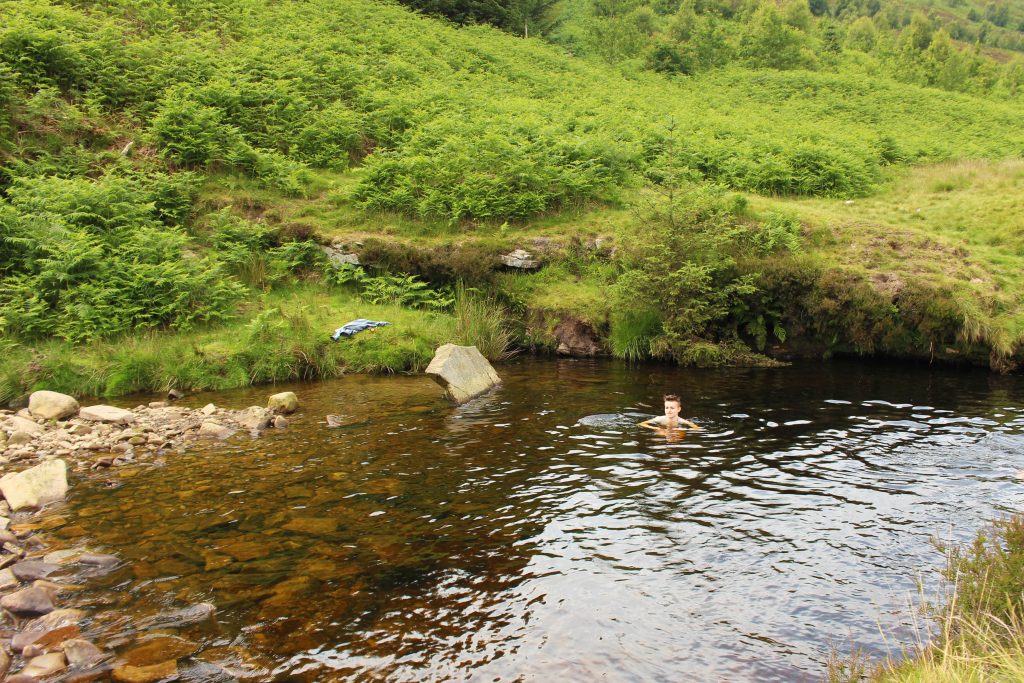 A lovely walk with superb views and a variety of terrain. There are numerous walks that you can do starting from this point, or from the various laybys along this road. The area offers access up onto Bleaklow if you fancy a long adventure as well as paths that lead up Alport Castles. A wonderful and wild part of the Peak District.
Thank you for reading! Be sure to check back weekly for hiking routes, gear reviews and other adventures!
You can find me in these social places.